Dimitra & Alex celebrated their love in Sivota Greece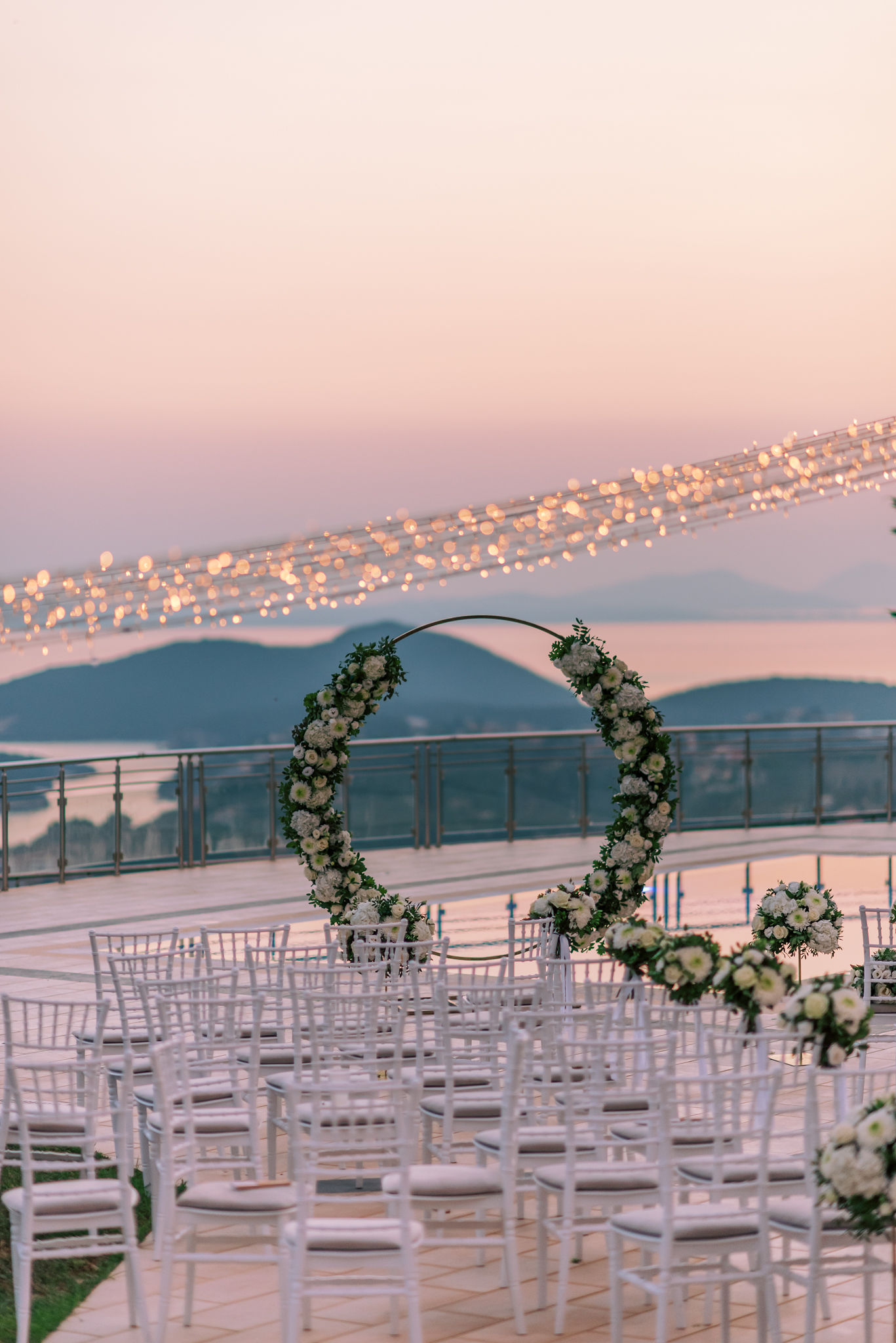 Our inspiration came from our bride, Dimitra herself. Innately sophisticated, confident that everything is possible, winningly upbeat, and super-fun to hang out with. What else can a planner ask for? Perhaps to build a wonderful relationship that somehow manages to evolve into a friendship? Winner! Designing for someone you've come to consider a friend puts things on a whole new perspective. We wanted to give her all she had ever dreamed of and more. To that, we sought out the most beautiful hillside villa in Syvota. Dream was one that would combine the chic and sleek aesthetic to match her personal style, bobbed with the relaxing sounds of rippling, clean aqua, and the perfect spot to elevate her entire wedding experience.
What does a bride need to feel like royalty on her big day? A dimension-adding, purposeful, iteration of sparkle. Enter Dimitra's tiara which added the cat's meow to her feline-style eyemakeup and brought on that big, irresistible smile of hers to shine. We made sure her timeline allowed for easy-going preps surrounded by her family and friends, some gorgeous getting-ready portraits alone and with her girls, and a spin of dance before she walked down the aisle. When everyone was ready guests took their seat fans-in-hand and watched stunning Dimitra stride teary-eyed towards her groom, escorted by Greek traditional musicians a special tribute to her roots and a wink to her beloved father.
Following the arrival of their sons and a C-19 long pause, their symbolic ceremony was one of the most exciting and tear-jerking moments on their day. Exchanging their vows was special, but what left no dry eye in the place was how the entire family united after they were audibly pronounced husband and wife before everyone. Their boys ran down the aisle to hug them; everyone cheered; it was simply electrifying. We set the couple's arch facing the magical pairing of the villa's smaller pool and the vast sea views below. All-white Chiavari with dove grey cushions, decked with arrangements, stately white blooms trimmed with greenery, and gold sheens against the marble villa gave the ceremony a classy, polished look. The couple's cocktail bar-cum-dessert display framed the ceremony so beautifully.
Following the couple's vows, their photographer whisked them away for portraits around the villa, and guests enjoyed cocktail hour on the terrace. We curated the reception by the larger pool placing rotundas around and the newlyweds' mirror-topped table smack in its bank. Crystal chandeliers and glassware paired so effortlessly to gold cutlery and flower stands. Friends & family of the bride and groom found their way to their tables on full-moon-shaped escort cards enveloped in plexiglass. White hydrangeas, chrysanthemum magnum, Mondial roses, lisianthus, and Mediterranean greenery added a tactile sense of texture and balanced the entire scheme. The couple also repurposed their circular arch at the ceremony to surround the cocktail scene. Against the dusty riot of pinks in the sky when the sun went down, the sparkly peplum of fairy lights above, and the scintillating pool waters, it was a magical thing!
Nothing beats a wedding party in Greece. From signature cocktails after the couple's favorite flavors to foodie experiences and culinary surprises we made sure the guests were fueled enough for an all-nighter danceathon. First came traditional dances, then a five-minute firework show, and then everyone rocked the wooden decks till the wee hours. If you want to see more of this amazing couple, feel free to explore their unique wedding, as published in
Amber and Muse!
  Planning & Styling: Meli Weddings Photographer: Lefteris Kalampokas Photography Videographer: White Filming Florals: Leonidas Rammos Sound and lights: Art Audio Catering: Mamalis Catering Venue: Dream Villas Kostas Dj: Johnny Rock